Welcome to the official website for the Sand Creek Homeowners Association, Inc. This website has been created to offer residents (and prospective buyers) a new way to access information about the Sand Creek community. The site will be updated frequently so please visit here often to get the latest news.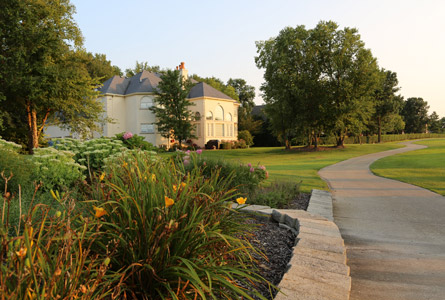 Sand Creek is a 265 home/lot community located along the Southern tip of Lake Michigan, in Northwest Indiana, near the intersection of route 49 and Indian Boundary road.
Nestled among 27 holes of world-class golf at the Sand Creek Country Club, Sand Creek features spacious homes, and an exceptional natural setting, enhanced by professional landscaping, parks, ponds, and waterfalls. All homeowners within Sand Creek are part of the Sand Creek Homeowners Association, Inc., which looks after the interests of its homeowners, and tries to promote a strong community. The beauty and serenity of Sand Creek is protected by written standards, which ensure each homeowner that the integrity of the community will be continually maintained.
Sand Creek is minutes from Historic downtown Chesterton, the South Shore train station, two major expressways, and of course the 29 glorious miles of Indiana Dunes Park beaches, and forest preserves. Whether your interests are hiking, swimming, biking, fishing, sunbathing, camping, or people watching, you are minutes from the beach, and trails. The town of Chesterton also has many restaurants ranging from upscale gourmet dining to all of the fast food chains.
Students attend Brummitt Elementary, Westchester Intermediate, Chesterton Middle School and Chesterton High School. We are also minutes from Purdue North Central, and Indiana University North campus, as well as the acclaimed Valparaiso University.
Sand Creek is located in Northwest Indiana along the Southern tip of Lake Michigan, approximately 45 miles from Chicago.
From I 94 exit route 49 South. Continue South to Porter Avenue, (two stoplights), and turn Left. Continue on Porter approx. ¾ miles, and you will be at the main entrance of Sand Creek.